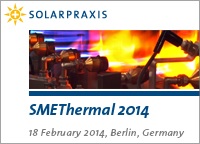 The SMEThermal 2014 will take place on 18th February 2014 in Berlin, Germany.
SMEThermal 2014 is Europe's leading international industry conference on the solar thermal sector. The one-day event offers unique insights into the sector's most recent technological developments, whether in process optimisation, cost reduction strategies, new materials or the design of collectors and tanks. SMEThermal already takes place for the fifth time and has evolved into Europe's leading international solar thermal industry conference.
                                                                         More information about the event can be found here.