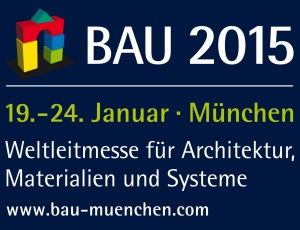 BAU 2015, the World's Leading Trade Fair for Architecture, Materials, Systems, takes place from 19 to 25 January 2015 at the New Munich Trade Fair Centre.
Over 1,900 exhibitors from more than 40 countries are expected to take part, and more than 210,000 visitors from around 150 countries. On show at BAU on 180,000 square metres of exhibition space will be architectural solutions, materials and systems for industrial, residential and commercial construction, and for interior fitting. Every two years this event brings together market leaders from the sector to participate in a unique display of competence spanning all the construction trades. BAU is also the worlds largest trade fair for architects and engineers, attracting over 38,000 design professionals. The range of building materials on display at the fair is grouped into product and theme sections. Key topics for the future of the industry, such as sustainable building, play an important role in all sections of the exhibition. The many attractive events in the accompanying programme, including high-calibre forums with experts from all over the world, round off this industry showcase.
For more information click here.