Work packages
In order to lead the partners to achieve the specific objectives, the structure of the work plan is divided into 8 work packages (WPs), each targeting different objectives, tasks and expected results.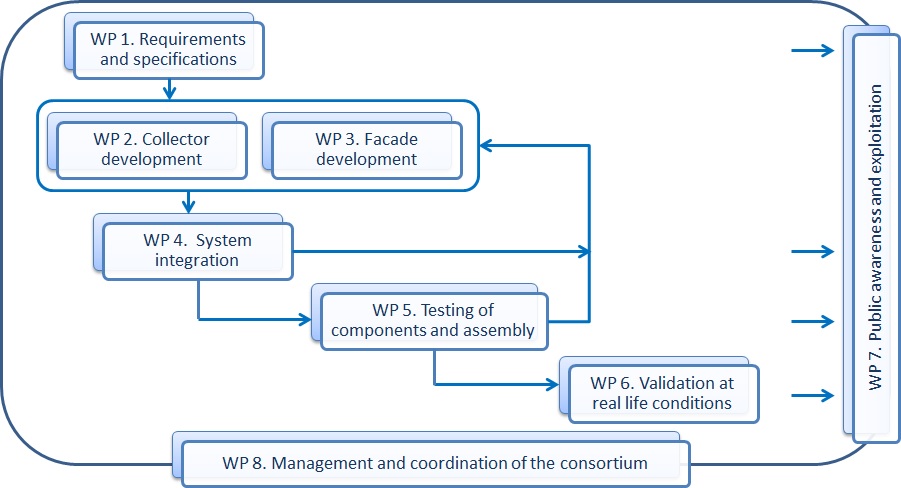 WP1: Requirements and specifications
Objectives:
Technical and economical, qualitative and quantitative system requirements for the key performance indicators: room climate, collector performance, building energy balance and usability for district heating
Technical specifications for all system components as base for collector and façade development.
Specifications for testing conditions
---
WP2: Collector development
Objectives:
Develop the collector (glazing) and fluid circuit components for thermal labscale testing
Improve and optimize the collector and fluid circuit components for field test based on the results from labscale testing
---
WP3: Façade development
Objectives:
Develop an overall modular façade system with integrated FLUIDGLASS

Optimize design and prepare sample of framing systems for testing at labscale

Design and construction of full scale elements for the system assembly testing at the container
---
WP4: System Integration
Objectives:
Develop optimal combinations of the different system parts such as glazing unit, insulation, HVAC integration, thermal storage, etc. This simulation will be done on façade, building and district level and will also consider LCA.
Establish first prototypes of the different technologies and combine glazing with HVAC system for lab scale testing. Conduct mechanical stability tests on the different elements.
Establish schematics of the system level including design guidelines. This catalogue can be used later on for dissemination.
---
WP5: Testing of components and assembly
Objectives:
Assess the properties of FLUIDGLASS both on the thermal and mechanical properties. Testing will be performed on the major components of FLUIDGLASS in order to verify that all the requirements are fulfilled.
Test the system assembly by implementing it in small test building (container). After the specifications and design, the container will be assembled and his functionality will be tested.
---
WP6: Validation in real life conditions
Objectives:
Validate FLUIDGLASS system to obtain real life operational experience in hot and cold climate
Offer potential user the possibility to enter a FLUIDGLASS room and to experience this technology
Collect data for validation of building simulation
---
WP7: Public awareness and results exploitation
Objectives:
Increase public awareness of new solar thermal solution for office and commercial buildings
Introduce training for building engineers and professionals and prepare educational tutorials
Develop a new business model for modular FLUIDGLASS system and renewable energy flow
Contribute to new and on-going international standardization efforts on energy management
Prepare recommendations for policy makers on energy efficient buildings / districts
---
WP8: Management and coordination of the consortium
Objectives:
coordinating the actions of participants and progress monitoring for achievements of project goals
financial and administrative management (technical management is part of individual technical WPs)
reliable interface to the European Commission and external actors (External Advisory Board)