FLUIDGLASS presented at World Sustainable Energy Days 2016
FLUIDGLASS project was presented at World Sustainable Energy Days that were organized in Wells, Austria on 24 – 26 February 2016.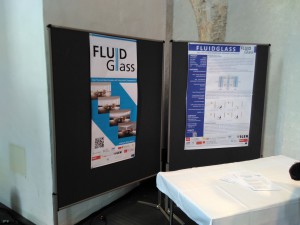 The World Sustainable Energy Days, a large annual conference in this field in Europe, offer the combination of events on sustainable energy production and use, covering energy efficiency and renewable energy sources for buildings, industry and transport. Four conferences, which presented the latest technology trends, outstanding examples and European strategies – and the "Energiesparmesse", an important energy trade show, offered opportunities to establish new partnerships. The conference made an important contribution to awareness-raising for green energy and energy efficiency.
FLUIDGLASS consortium was represented by Martin Schröcker (GlassX), who presented a paper "FLUIDGLASS: a new concept for adaptive facade systems" in Smart Façade Materials conference as a plenary talk in front of about 100 guests from industry and the academic world. FLUIDGLASS consortium participated also in Tradeshow "Energiesparmesse", where a FLUIDGLASS booth was organized.
Pictures from the event can be found in Gallery. More information on the event can be found here.