Final FLUIDGLASS workshop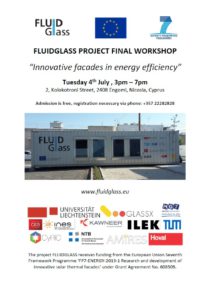 Final FLUIDGLASS workshop is scheduled for 4th July 2017. The workshop will be organized within FLUIDGLASS M48 meeting and will take place in the Gravity Incubator, Engomi, Nicosia, Cyprus.
First part of the workshop will be dedicated to the role of façade within the concept of the low-energy building, while the second part will be focused on the description of the FLUIDGLASS façade concept and demonstration of validation results. The target group of this event will be compounded of the energy experts and researchers from the local companies and institutions.
If you are interested in taking part in the workshop, please do not hesitate to contact us.